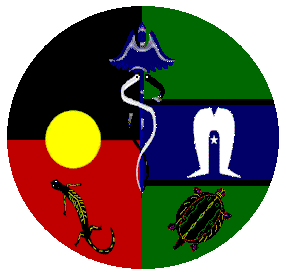 Ph: (07) 3365 5434 or (07) 3365 5436; Fx: (07) 3365 5550
AN INTRODUCTION AND A HISTORY OF THE CLUB
At last, a gang of students from the University of Queensland have formed together into network of spirited people who are willing to make cross cultural connections in an attempt to face some of the health issues (and all those issues intimately related to health) experienced by the Indigenous peoples of Queensland and Australia.
The gang is made up of students from two groups:
BAppHSci (Indigenous Primary Health Care) - a three year degree program incorporated into the Department of Tropical Health (co-ordinated through the Indigenous Health Program) and;

Bachelor Medicine/Surgery students - which includes student from the current six year degree program and will also include those from the soon to be implimented 4 year graduate medical course (1997). Both degrees being offerred through the Faculty of Medicine.
Initially our aim was to encourage and facilitate the exchange of cultural information between indigenous and non-indigenous peoples in order to improve relationships through a process of greater understanding and vicarious learning. But as you could well imagine, our once naive goals have blossomed into a garden of opportunity, initiatives and future plans and aspirations. Before, we offer you some insight into what we are about and where we plan to go, let us tell you about our short history from the perspective of a fifth year medical student.
As our archaic medical curriculum currently stands, we are allotted a gracious 90 minutes to Aboriginal and Torres Straight Islander health. That is 90 minutes out of 6 years, the training required to become a medical doctor. This lecture was given by the enthusiastic and inspiring Cindy Shannon, Director of the Indigenous Health Program (IHP). Terms such as Aboriginal Health Worker were completely foreign, and the statistics of morbidity and mortality frightening. The timing was uncanny, as one of the students had just recently returned from the Far North Queensland where he had visited several Aboriginal communities around Cairns. Not only was he captivated by this culture but he was disturbed by the state of health, and was intrigued and dumbfounded as to why these issues had not been addressed in classes. From this he and Cindy were able to meet, organise group meetings with the Aboriginal and Islander students from the IHP degree program, and create the beginnings of an exciting and prominent network.
Currently, we are growing stronger and larger by the day. We are fortunate to be able to use the Indigenous Health Program as our correspondence address. We have formed an executive and a 14 member steering committee, made up of representatives from all years of medicine and IHP.
To view our aims and objectives


Mail us!
Email: s333831@student.uq.edu.au

ã Indigenous Health Cultural Exchange Group 1996. All rights reserved.